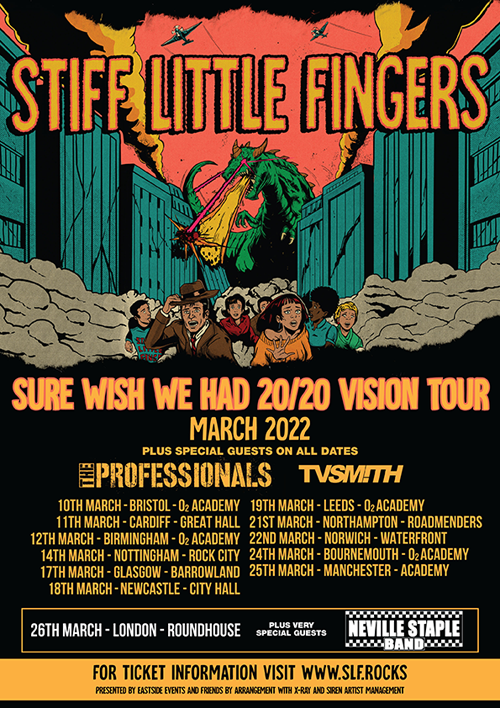 The news we were expecting to hear but hoping somehow we wouldn't has arrived. We've had to postpone the U.K. tour, again due to the pandemic. Obviously, compared to the bad news a lot of people have received over the last year or so this is a drop in the ocean, and our thoughts are with those who have lost loved ones or suffered in some other way as a result of this terrible virus. 
With regard to the tour, we have moved as many of the shows as we could back a year, and as was the case with the initial move ALL tickets for the original shows remain valid. Our friends The Professionals, TV Smith, & Neville Staple are staying with us for these new dates. However, there are some changes. See the new dates, details, and ticket links for each gig on the homepage of SLF.rocks.
Firstly, the Newcastle date is moving from the O2 Academy to the City Hall. This is at the request of the promoter. We have played the City Hall in the past and it's a venue that holds a special place in our hearts (especially for myself and Ian). The seats will be removed from the ground floor and, as the capacity is slightly larger, there will be a few more tickets available for what was previously a sold-out show. 
Secondly, Portsmouth Pyramid Centre is not available for us in March 2022, so we're moving the show to the Bournemouth O2 Academy. Portsmouth tickets will be valid for that show, but obviously, refunds will be available if it's not a journey you care to make. 
Once again, thank you all for, as always, sticking with us. We are always amazed at your patience, good humour, and tolerance. And many thanks to the promoters, agents, and management who have worked so hard to move these dates around through nobody's fault.  And thanks also to our friends The Professionals, TV Smith & Neville Staple for staying with us till 2022. Stay Healthy and hope to see everyone soon.
Hoping for a 2021 that is finally served loud!  All the best, Jake, on behalf of Stiff Little Fingers